When you're out shopping for best low budget speakers below $50, it's easy to become overwhelmed by the choices out there. It also doesn't help much when reliable brands have multiple options in the same price range. The differences between the multiple low-end speakers we tested were minimal, but the Creative A250 2.1 Speakers stood apart from the competition with big sound despite their compact size.
With a total power output of 9 watts, we were blown away to see the speakers pumping out crisper audio than some of their competitors using two to three times the amount of power. While they won't produce the highest volume of sound, we found little distortion with the volume cranked all the way up. Despite being smaller and lower powered than a few of the other options we tried, such as the Cyber Acoustics CA-3602 or the Logitech Z313, the A250 subwoofer actually provided clearer lows. The only complaint here is a lack of bass control to complement the convenient volume knob located on the right speaker.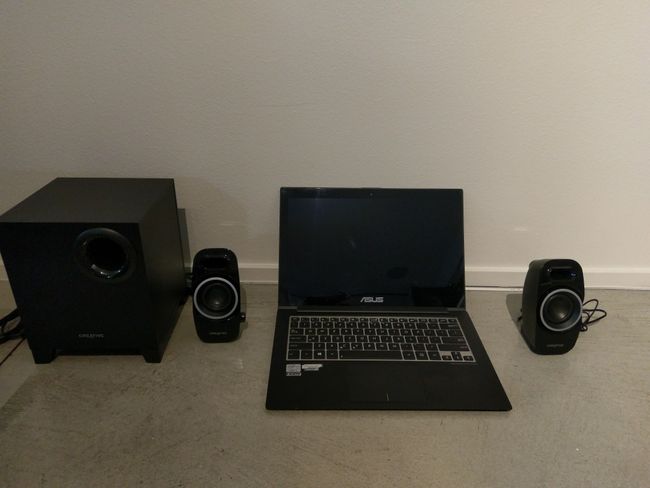 Wherever the A250 speakers lacked in volume, they made up for in clarity. This is why we highly recommend these speakers for students on the go. Pictured above with my 13" ultrabook, the speakers are small enough to fit on any cramped desk surface. They're easily the most portable 2.1 system we tried and perform best in a smaller bedroom or dorm.
Like any other pair of speakers below $50, the Creative A250 2.1 Speakers are easily beat when compared to a mid-range set. If you're willing to spend a bit more for a quality speaker system, the results when gaming can be very rewarding. But for gamers on a budget, we found these speakers to be the clear winner.